Welcome to our club's pages! Our club like everyone else, had to make changes to our normal activities and meetings during the pandemic. We continue to care for our community with as many projects and activities as allowed under the restrictions.
We are excited for a new year 2022!
00
Come Join The Fun!
YOU ARE INVITED
TO SUPPORT CHKD!
Applebee's
6806 Walton Lane
Gloucester, VA 23061
Hosted by The Abingdon Ruritan Club
TICKETS $10 June 25th, 22 8AM – 10AM
804-815-4119 mmhmekdahl@verizon.net
Please contact organization to purchase a ticket. This flyer is only
intended for advertising purposes. Ticket valid for pancake event only.
Applebee's® menu items are not included as part of purchase
0
Abingdon Ruritan Seafood Festival
May 18, 2022
Good Times!
Good Fellowship!
Wonderful Community!
Thank you ALL for joining the ARC Seafood Festival!
Don't Forget we are doing it again in October!
01
WELCOME NEW MEMBERS!
Thank you for joining us.
Welcome new members. Top, Mary and Mike Crandall with sponsors, Barbara and Walter priest; Bottom left, Mark Bradford, sponsor Don Sciria; Middle, Cathy Dale, sponsor Mary Lou Shepherd; Bottom right, Jhie Hale, sponsor Bill Hale.
00
000
NEW BOARD MEMBERS WELCOME !
Rebecca Lane, National Director Chesapeake District, installed our 2022 board members. Frank Gillerlian was installed as president, Mary Lou Shepherd as vice president, Ann Dugas as treasurer, Dianne Woolley as secretary, and Roger Dick as 1st year director.
000
000
Abingdon Ruritan Annual Christmas Party 2021
The tradition for the December Membership meeting was followed again in 2021. Most of the routine business was dispensed and a banquet was held to welcome in the Christmas Season. The members, their spouses and guests enjoyed a delicious buffet prepared by member Don Sandridge and his cook team. Dining and dancing music was provided by member Glen Boswick the Sounds of Swing.
Outgoing president Dave Onesty awarded Dave Kyle the ARC Ruritan of the Year and Steve and Krista O'Neil as ARC Rookies of the year. Dave Onesty passes the gavel to Frank Gillerlain as the symbolic transfer of power.
000
Children's Christmas Party 2021
The excited Gloucester County children who attended the Abingdon Ruritan Club's annual Children's Christmas party on Sunday enjoyed cookies and ice cream and got to play many games, work on craft projects, and participate in cake walks. Each child received an age-appropriate book, and a bag of "goodies". Of course, the highlight of the day was a visit by Santa and Mrs. Claus.
THANK YOU, VOLUNTEERS!
Though I'm sure a lot of us are still recovering from a long fun Sunday at the club… it was a great day. Being one of our most rewarding events we hold for the community's children, we can't thank you all enough for your time and efforts that joined together to put on such a successful party for the local youngins and their families. From the folks that served at the entrance to the ones that prepared and served the food, the attendants at the games and books and cakes and on the floor and on the stage, the ones that crafted with the families, the ones that prepped early and cleaned late, and of course Santa and Mrs. Claus who stole the show and our wonderful photographer that captured the many moments. We also can't forget all the ones that helped behind the scenes in the preparation. This day wouldn't have been such a success without each and every one of you. We thank you for all of your time , energy and input.
THANK YOU! THANK YOU! THANK YOU!
Any comments or suggestions for a better one next year, I'm all ears. It's gonna be tough to beat this years team effort but we can definitely try! All the Best,
Lynn Onesty
000
We are growing -17 new Members in 2021
We welcome you on your special day!
Welcome ARC Members Inducted November 2021!!
Raising us to 16 new members.
President Dave Onesty inducted Tina Lewis (sponsored by Roger Dick) and Scott Olmsted (sponsored by Dave Onesty) at the November Membership Meeting.
Welcome ARC #17 Newest Member Inducted December 2021!!
The Abingdon Ruritan Club recently welcomed a new member, Dean Marzocca. He was sponsored by fellow member Marsha Weatherwax. Pictured is Marzocca (left) with President Dave Onesty.
November 2021 New Member Dinner
Our16 new members and their sponsors met for fellowship, a meal, and discussion on the importance of being a Ruritan.
The rewards from the fellowship and goodwill among members coupled with the satisfaction of helping make our community a better place to live make membership in the Abingdon Ruritan Club a great choice.
Thank you sponsors!
000
000
Abingdon Ruritan Club
marks 65th Anniversary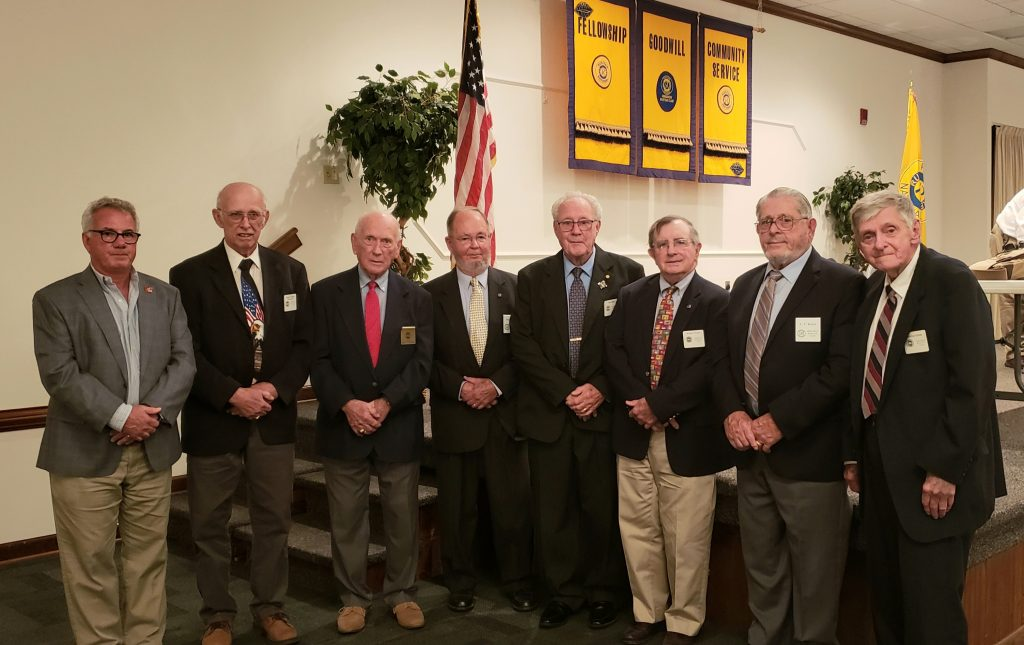 ARC recently hit another milestone of service to the Community – Chartered on October 8, 1956 – we reached 65 years of continuous service on October 8, 2021. See our "ABOUT US" page for full story.
00
00
BUILDING RENTAL

: Our building and our grounds are available for rentals!
Our club is vibrant, vigorous, and robust! Members, both men and women, work together to continue the vision of our founders by working to better our community.
Membership in a Ruritan Club is by invitation. We welcome anyone who is interested in working and giving time to our community projects to let us know of your interest. We meet monthly for dinner and a program. Our programs showcase organizations that our local club supports as well as topics of interest in our community. Programs for monthly meetings are used to inform, train, and entertain our members.
Ruritan National does not discriminate on the basis of age, race, national origin, religion, color, political affiliation, handicap, or gender.
Here's just a sample of what we normally do:
Spring and Fall Seafood Festivals – We give back to the community over $60,000 each year.
Clam Chowder Sales – Offered in winter months with profits going back to the community.
College Scholarships – The Club awards thousands of dollars in renewable Scholarships each year. For additional information click Scholarship Opportunities
Gloucester Schools – We support Ruriteens, Boys and Girls State, Junior Law Cadets, Cub Scouts, Girl Scouts, 4-H, Little League Baseball, the STAR program, and the back-pack program.
Rudy Bears – Bears are given to the Sheriff's Office, Fire & Rescue, and Nursing Homes for distribution to children in accidents or in vulnerable situations, or to adults who need comfort.
Support Veterans – We participate with Veterans groups and Gloucester County on Memorial and Veterans' Days and deliver care packages to VA Hospitals.
Support for the Homeless – Our Club participates with Community Churches in the GUEST program by providing meals and hands-on assistance for homeless individuals.
Christmas for Kids – Every December we host a party for all children, ages 8 and under, followed by a special party for Foster Kids of all ages. Santa and Mrs. Claus preside over both parties with lots of food, entertainment, fun, and presents. We also sponsor an Angel Tree for needy children with their personal "wishes" including clothes and shoes by size.
Benevolence – A fund is set up to help Gloucester citizens with special financial needs.
Special Emphasis – We work closely with our local Sheriff's Office; provide our facilities for Blood Drives and local, state, and national elections; promote and provide a team for Relay for Life; and participate annually with the Guinea Jubilee. We collect and deliver food to local churches to stock their food pantries, participate in Meals on Wheels, and donate pet food to the Humane Society.
Teamwork – We care for the environment by participating in Clean Gloucester Days and by picking up roadside and shoreline trash, and we have helped plant sea grass for erosion control. We send cards and visit members who are sick and honor those with birthdays and anniversaries. All members share in cooking meals for monthly meetings, as well as working the Seafood Festivals to set up, advertise, sell tickets, cook, serve, and clean up. Members also maintain and repair ARC buildings and grounds.
Visit our Community Service Committees page to learn more.
_______________________________________________________________