Welcome to our club's pages! Our club like everyone else, had to make changes to our normal activities and meetings during the pandemic. We continued to care for our community with as many limited projects and activities as allowed under the restrictions. After more than a year, we resumed our monthly in-person meetings and projects that had to be delayed are being completed. Unfortunately, the COVID restrictions forced us to cancel three Seafood Festivals and to significantly curtail our building rentals as well during the pandemic. Thankfully, we held the Fall Seafood Festival on October 20, 2021 and it was a blast for our visitors, sponsors, members, and volunteers.
0000 000000
0000000000000000000000000000000000000000000
We welcome you on your special day!
Welcome ARC Newest Members Inducted November 2021!!
Raising us to 17 new members.
President Dave Onesty inducted Tina Lewis (sponsored by Roger Dick) and Scott Olmsted (sponsored by Dave Onesty) at the November Membership Meeting.
November 2021 New Member Dinner
Our16 new members and their sponsors met for fellowship, a meal, and discussion on the importance of being a Ruritan.
The rewards from the fellowship and goodwill among members coupled with the satisfaction of helping make our community a better place to live make membership in the Abingdon Ruritan Club a great choice.
Thank you sponsors!
000
000
Abingdon Ruritan Club
marks 65th Anniversary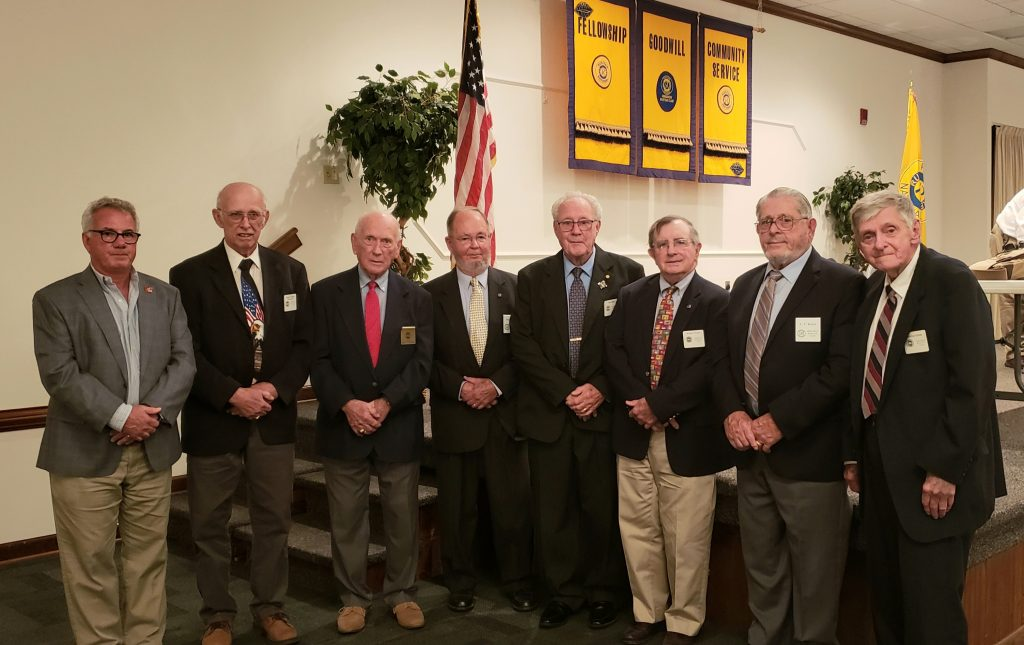 ARC recently hit another milestone of service to the Community – Chartered on October 8, 1956 – we reached 65 years of continuous service on October 8, 2021. See our "ABOUT US" page for full story.
00
00
BUILDING RENTAL

: Our building and our grounds are available for rentals!
Our club is vibrant, vigorous, and robust! Members, both men and women, work together to continue the vision of our founders by working to better our community.
Membership in a Ruritan Club is by invitation. We welcome anyone who is interested in working and giving time to our community projects to let us know of your interest. We meet monthly for dinner and a program. Our programs showcase organizations that our local club supports as well as topics of interest in our community. Programs for monthly meetings are used to inform, train, and entertain our members.
Ruritan National does not discriminate on the basis of age, race, national origin, religion, color, political affiliation, handicap, or gender.
Here's just a sample of what we normally do:
Spring and Fall Seafood Festivals – We give back to the community over $60,000 each year.
Clam Chowder Sales – Offered in winter months with profits going back to the community.
College Scholarships – The Club awards thousands of dollars in renewable Scholarships each year. For additional information click Scholarship Opportunities
Gloucester Schools – We support Ruriteens, Boys and Girls State, Junior Law Cadets, Cub Scouts, Girl Scouts, 4-H, Little League Baseball, the STAR program, and the back-pack program.
Rudy Bears – Bears are given to the Sheriff's Office, Fire & Rescue, and Nursing Homes for distribution to children in accidents or in vulnerable situations, or to adults who need comfort.
Support Veterans – We participate with Veterans groups and Gloucester County on Memorial and Veterans' Days and deliver care packages to VA Hospitals.
Support for the Homeless – Our Club participates with Community Churches in the GUEST program by providing meals and hands-on assistance for homeless individuals.
Christmas for Kids – Every December we host a party for all children, ages 8 and under, followed by a special party for Foster Kids of all ages. Santa and Mrs. Claus preside over both parties with lots of food, entertainment, fun, and presents. We also sponsor an Angel Tree for needy children with their personal "wishes" including clothes and shoes by size.
Benevolence – A fund is set up to help Gloucester citizens with special financial needs.
Special Emphasis – We work closely with our local Sheriff's Office; provide our facilities for Blood Drives and local, state, and national elections; promote and provide a team for Relay for Life; and participate annually with the Guinea Jubilee. We collect and deliver food to local churches to stock their food pantries, participate in Meals on Wheels, and donate pet food to the Humane Society.
Teamwork – We care for the environment by participating in Clean Gloucester Days and by picking up roadside and shoreline trash, and we have helped plant sea grass for erosion control. We send cards and visit members who are sick and honor those with birthdays and anniversaries. All members share in cooking meals for monthly meetings, as well as working the Seafood Festivals to set up, advertise, sell tickets, cook, serve, and clean up. Members also maintain and repair ARC buildings and grounds.
Visit our Community Service Committees page to learn more.
_______________________________________________________________