WHO ARE THE RURITANS?
We are a group of community minded citizens joining together to meet community needs while embracing the Ruritan motto of Fellowship, Goodwill, and Community Service.
What do we do?
Ruritan's purpose is to create a better understanding among people, and, through volunteer community service, make America's communities better places in which to live, work, and raise families. Club membership represents a cross-section of the community in which the club serves and is not restrictive with regard to occupation, social-position, or any other specific criteria. We do this by organizing ourselves into several Community Service Committees, each with specific areas of interest. Every club member serves on one or more committees.
CARING ABOUT OUR COMMUNITY
The Abingdon Ruritan Club donated $500 to support BAYSTARS FC to help promote the positive attitude of youth level sports in our Community.
The Baystars FC is dedicated to the development of youth soccer players across the Middle Peninsula since 1987. The Baystars mission is to maximize each child's soccer skill, knowledge, and ability through a positive, engaging, and challenging atmosphere. The Baystars also wants to be the leader for soccer on the middle peninsula though its youth development, coaching, and partnerships with collegiate and professional organizations. Games are currently played at Woodville Park.
00
Abingdon Ruritan Club
marks 65th anniversary
The Abingdon Ruritan Club celebrated its 65th anniversary with a special program during its October membership meeting.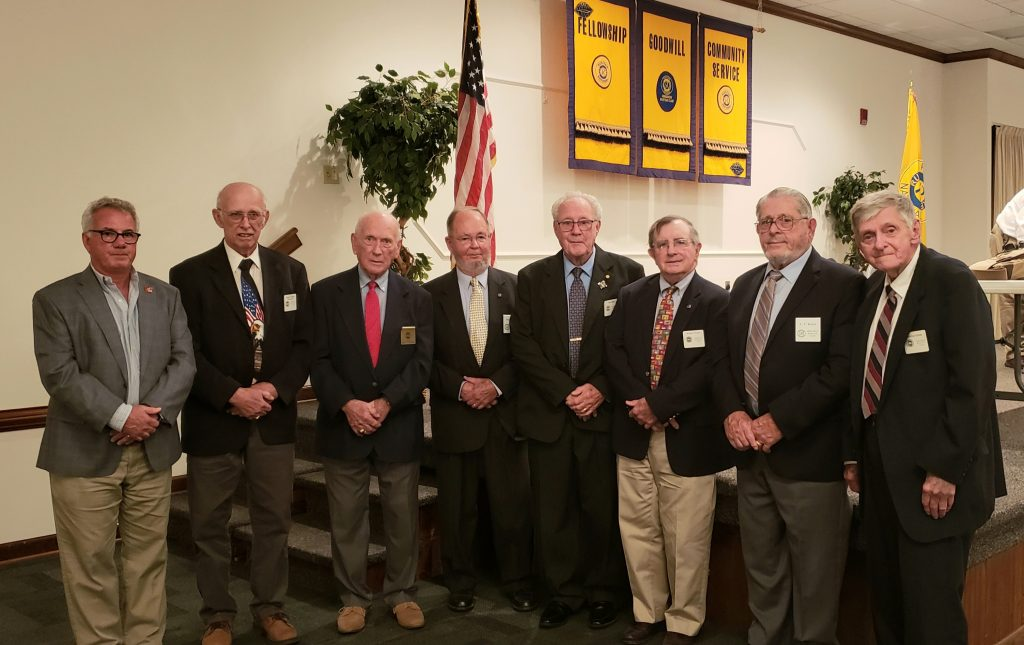 The Abingdon Ruritan Club is celebrating its 65th anniversary this month. The club was chartered in 1956 with 29 original members. As the third largest club in all of Ruritan National, it has been a major community supporter of Gloucester Point.
When the club was founded, members met at Bethlehem United Methodist Church and at a now closed restaurant, Seawell's Ordinary. It wasn't until 1981 that the club purchased the land where the club building, which was dedicated in 1993, now sits. According to longstanding member L.T. Wells, the land was purchased for $55,000 with the aid of a loan from a local bank. The land was put to use and became the new
site for events including the Seafood Festival. The Seafood Festival is the club's signature fundraising event that is held in May and October each year. During 2020, ARC was unable to hold any of its fundraising events including the festival, because of Covid. Current ARC president, David Onesty said it was painful not being able to award their yearly donations for other causes because they lacked the funds to do so. However, the festival has returned for 2021. In fact, the event on Oct. 20 has already sold out. Wells said they sold over 2,000 tickets to the event in just three days. The festival was started by club members Graham Blake, David Dea, Jon Beck, L.T. Wells, Gordon Smith, Walter Priest and Rupert Thomas in 1979. The seven are affectionately referred to as the "Magnificent Seven" within the club. The seven are still very active members after all these years.
Blake is the longest tenured of the group with 57 years under his belt. He also proudly boasts perfect meeting attendance for those 57 years. Dea has been with the club for 55 years and Beck 54. Outside of the 50-year mark is Wells with 48 years, Smith with 46, Priest with 44 and Thomas with 42. The seven remember the journey and the many fund raisers it took to get the club where it is now. Dea remembers the early days of club members selling fruit cakes throughout the area. They said it was at Buck Rowe's store where they first started selling clam chowder and having fish fries. It was also there where they first started selling their now well known clam fritters. They said it was Harry Thornton who would make the fritters for them and suggested it be something they sell. Many of the club's funding sources are made possible because of the club building. It wasn't long after the building opened that the club was offering its catering service and renting the space out for other events.
One big event the club takes pride in is the Children's Christmas Party. The party takes place on the first Sunday of December at the club building. Over 600 kids come to get presents and play games, and enjoy cookies and ice cream. When the event is over, the club cleans up and does it all over again for local foster kids. The Christmas Party is an example of what the club is all about—helping the community.
00
Blue Ribbon Award
The Abingdon Ruritan Club recently received the Blue Ribbon Award for 2020. Several accomplishments must be achieved in order for a Ruritan Club to receive this distinction, which include; having 90% membership attendance at every monthly meeting and at least one project completed by each of the five Community Service Committees.
ARC's 2020 President, Jimmy Leiffer, also received the Outstanding Club President Award. Johnny Moore (left) , Ruritan Chesapeake District Governor, presented Jimmy Leiffer with both awards at the Club's June membership meeting.
000
Abingdon Ruritan members and the Gloucester County's Elections and General Registrar work together.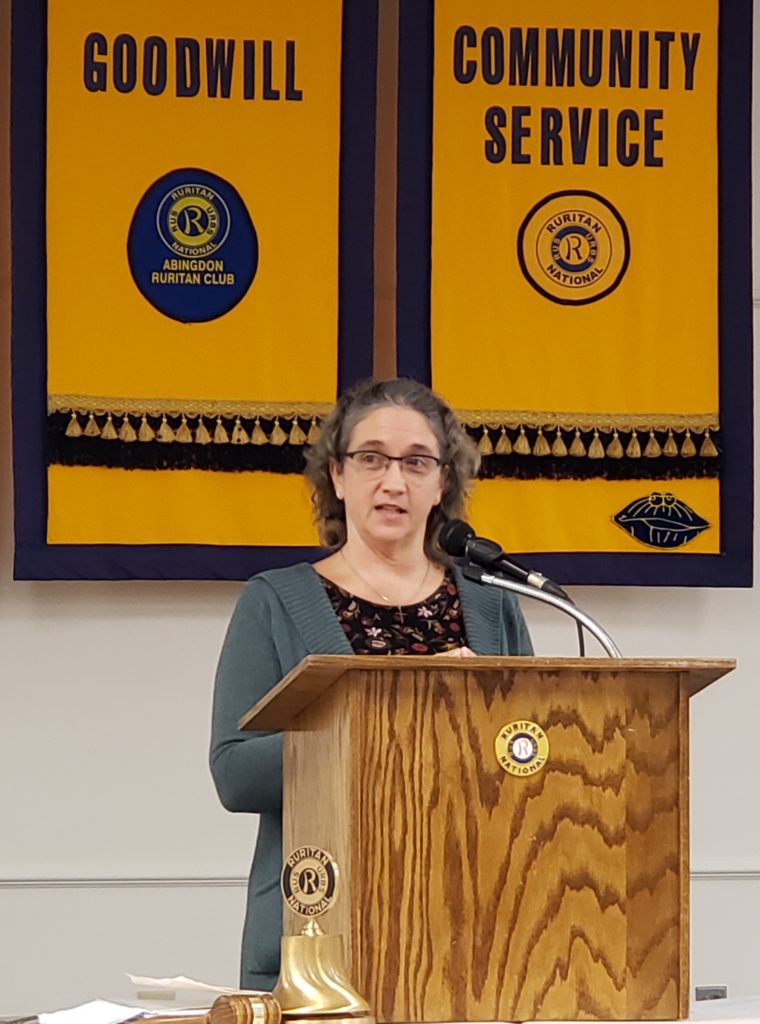 Bobbi Morgan, Gloucester County's Director of Elections and General Registrar, was the guest speaker at the Abingdon Ruritan Club's September membership meeting.
Abingdon Ruritan members volunteer in the Gloucester County Election/Voting Poles. Bobbi Morgan discussed many topics, including upcoming deadlines for registering to vote, as well as, early and absentee voting. She also went into detail about third party mailings regarding early voting and explained that they are not legitimate unless they have come directly from the Registrar's Office. Her and her staff take the integrity of our voting system very seriously and say all voters should feel confident when they cast their votes in our County.
Ruritan Clubs in observing the founding of Ruritan
Each year on a Sunday in the month of May, our club joins the many other Ruritan Clubs in observing the founding of Ruritan. Members are invited to attend a worship service together. A different place of worship, usually a member's church, is selected, each year.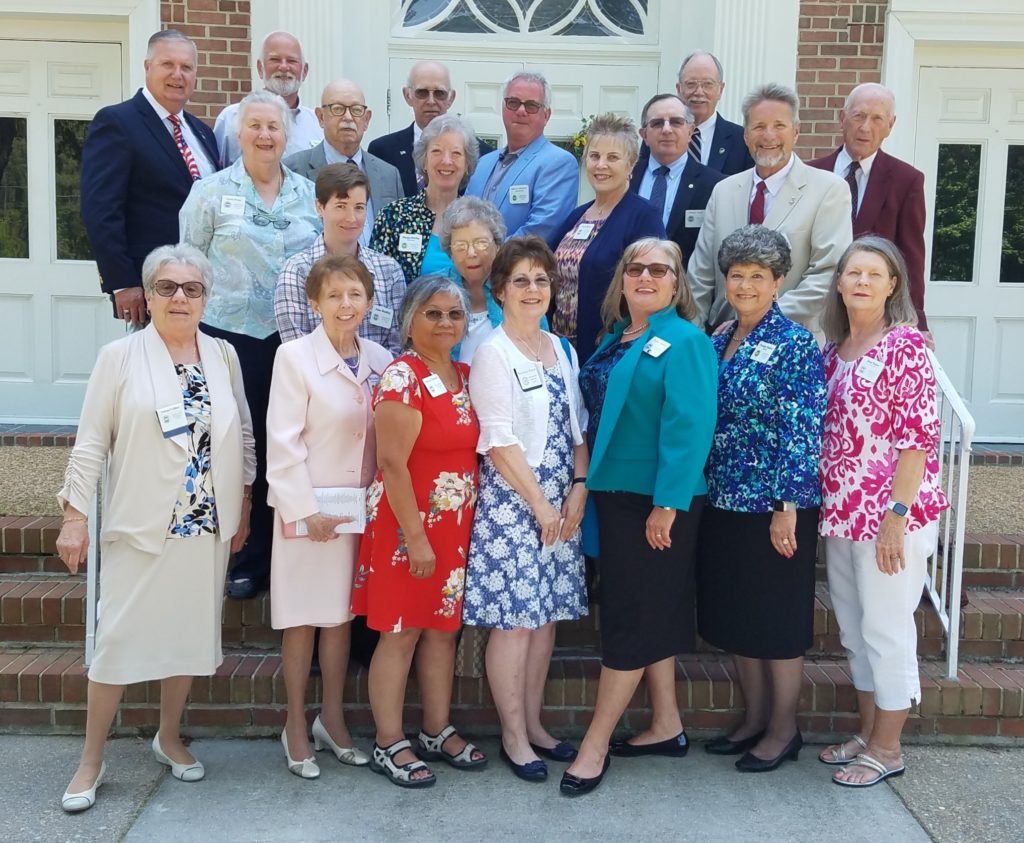 You can find news coverage of our activities published in our local newspapers, The Gloucester-Mathews Gazette Journal, Glo-Quips, and The Daily Press.
__________________________________________________________
Ruritan National's History
Ruritan National's web site provides extensive information about our national community service organization. Ruritan is made up of local clubs in urban areas, small towns and rural communities Currently nearly 30,000 members throughout the United States work to improve more than 1,100 local communities. Since the organization's beginning in 1928, Ruritan Clubs have served America under the motto of "Fellowship, Goodwill, and Community Service" .
The name "Ruritan" was suggested by Daisy Nurney, a reporter for the Norfolk Virginian-Pilot newspaper, and the club's charter members unanimously adopted "Ruritan" as the organization's name. The word is a combination of the Latin words for open country "ruri" and small town "tan," interpreted as pertaining to rural and small town life.
Abingdon Ruritan Club's History
Abingdon Ruritan Club was chartered in September 1956, with 29 members. It has since grown to over 100 members, dedicating their efforts to supporting the community. Our building was built by members and dedicated on February 27, 1993. It has been the site for rentals for hundreds of functions, such as fundraisers for the Free Clinic, Humane Society, and others, and private uses such as weddings and receptions, birthday parties, and family reunions. The building is provided as a community service to the Red Cross for blood drives and as a polling place for the Achilles precinct. Each year our outdoor festival area is the site of the Guinea Heritage Association's Guinea Jubilee and is occasionally rented for concerts and other outdoor activities.
President
board
Officers and Board of Directors 2021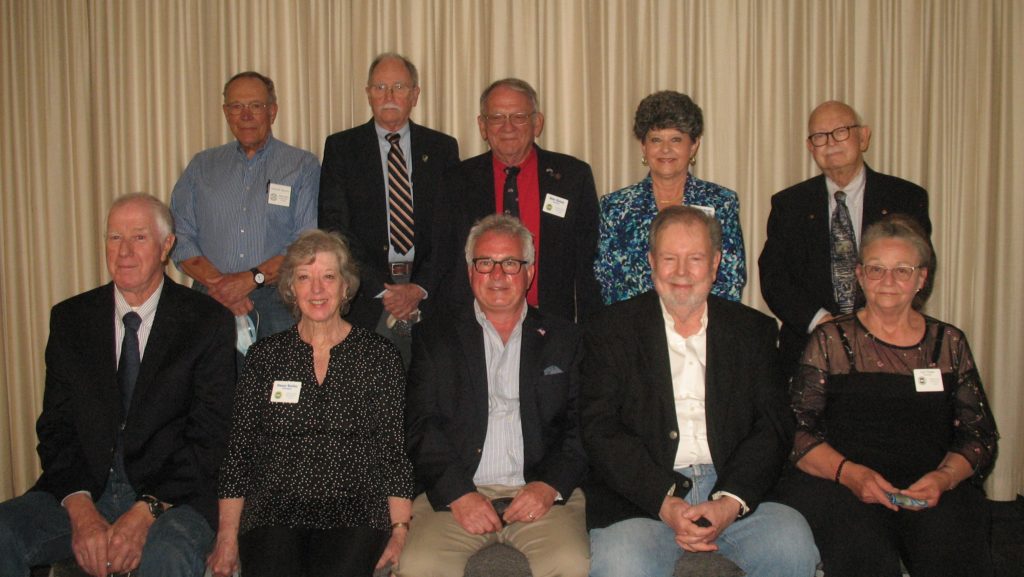 Back row: Chuck Harris, David Kyle, Mike Ekdhal, Yvonne Scales, Frank Collins Seated: Jimmy Leiffer, Dianne Woolley, David Onesty, Frank Gillerlain , Ann Dugas

officers
Many members of our club serve at the Zone, District, and National levels. Currently serving at the Zone Level are Don Sandridge (Zone 4 Governor) and Rose Taylor (LT. Governor). We are very proud of our member Elliott Hogge who served as Ruritan's National President in 2013-2014.
rudy bear
end