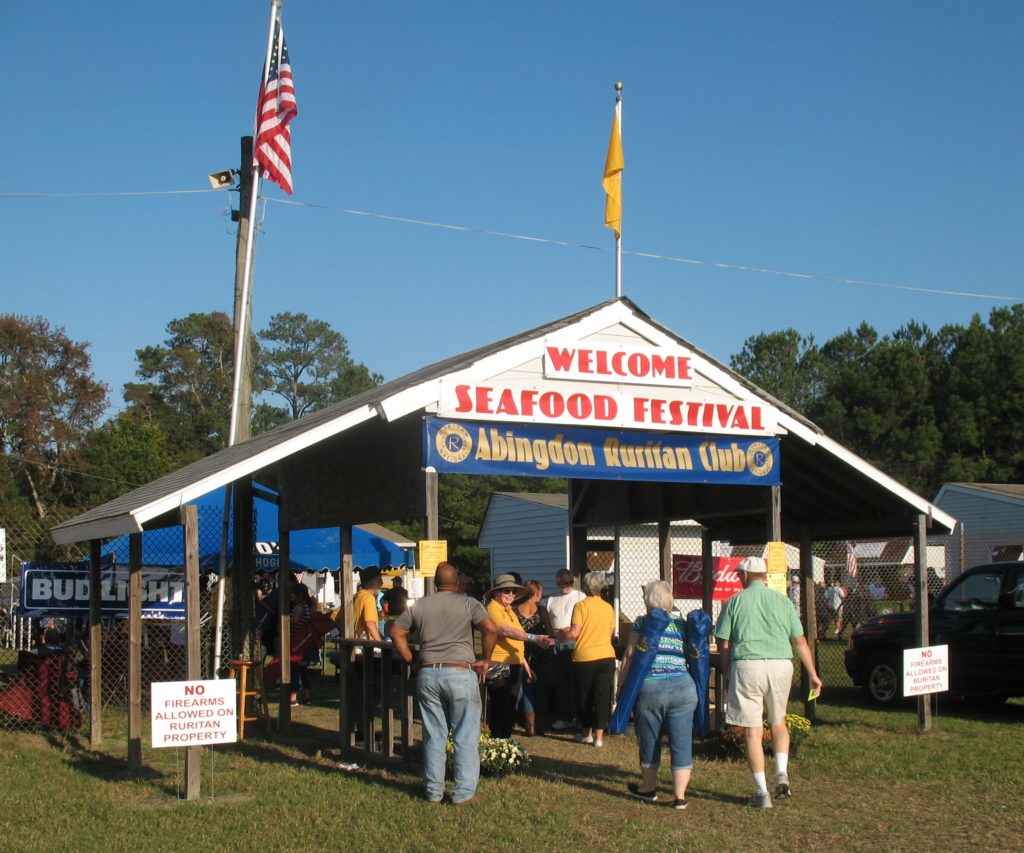 00
The Seafood Festivals are the Club's primary fundraising events
The money raised is used to help non-profit organizations and individuals with financial emergencies. By participating in our festivals, you are helping us help our community.
00
00
Here is what you get for the price of a ticket
Food – All-you-can-eat – Oysters, fried, roasted, and on the half-shell; clams in a chowder, fritter or on half-shell; fried scallops; fried fish; hush puppies; steamed shrimp; Hawaiian shrimp; steamed crabs; BBQ with coleslaw; French Fries; cake & ice cream; wine & cheese.
Beverages – Beer, wine, mixed drinks (no shots) soft drinks, tea, coffee and water. Alcoholic beverages are not served during the last 30 minutes of the festival.
Entertainment – Popular live band. Different band at each festival. Spacious grassy dance area in front of bandstand.
Parking – Free and convenient
Festival Information
Our Seafood Festivals are held twice yearly on the third Wednesday of May and on the third Wednesday of October. Festival hours are from 3:00 to 8:00 p.m. Gates open at 2:00 p.m. but no food or beverages is served until after the playing of our national anthem at 3:00. (Ruritans love citizenship and patriotism!) Location of the festivals is on our Festival Grounds behind our club building at 8784 Guinea Road, Bena, Virginia.
000000000000000000000000000000000000000000000000000
Ticket Information
IMPORTANT CHANGE FROM PRIOR FESTIVALS
Tickets for the October 18, 2023, Fall Seafood Festival will be $75 each and will be sold by Club Members. Tickets are advance sale only. No tickets will be sold at the gate. Everyone, including children of any age, must have a ticket.
How to get there
The address of the main entrance to our club building is 8784 Guinea Road, but on the day of the festival you cannot enter there to access the festival grounds! You will need to drive a few short yards ahead to the intersection of Guinea Road and Mark Pine Road (the next right turn). Immediately on your right as you are turning onto Mark Pine Road, you will see the paved apron in front of Abingdon Fire and Rescue Station No. 2, and a few inches beyond their paved apron is a gravel road which is our entrance you need to take to proceed to the parking area adjacent to our festival grounds.
Important Facts About Our Seafood Festivals
The Festival goes on, rain or shine. Ticket sales are final.
Enjoy the tables in the covered seating areas but they are not to be "reserved" by placing tablecloths or markers on them. Please share.
You may bring in lawn chairs and small folding tables (but no pop-up tents/canopies).
Not permitted
(These restrictions are necessary to provide a safe and enjoyable environment for our guests)
Pop-Up Tents/Canopies
Coolers (They will not be allowed through the gate)
Pets (They will not be allowed through the gate)
Wagons (They will not be allowed through the gate)
Firearms (concealed or open carry)
Political Campaigning (Never–not even in an election year!)
Anyone without a ticket. (Remember, none are sold at the gate.)
Any food or beverage to be taken outside the festival grounds.
Reserving tables by placing tablecloths or markers on them.
Sponsor Information
Sponsors for the Abingdon Ruritan Seafood Festivals provide a highly visible way of supporting the community. Over 30 businesses have banners displayed throughout the grounds on Festival days. If you would like to join them and be a sponsor, contact our Sponsor Chairman, Chris Lamb, email gloucesterbug@aol.com or phone/text (804) 832-6357.
Seafood Festival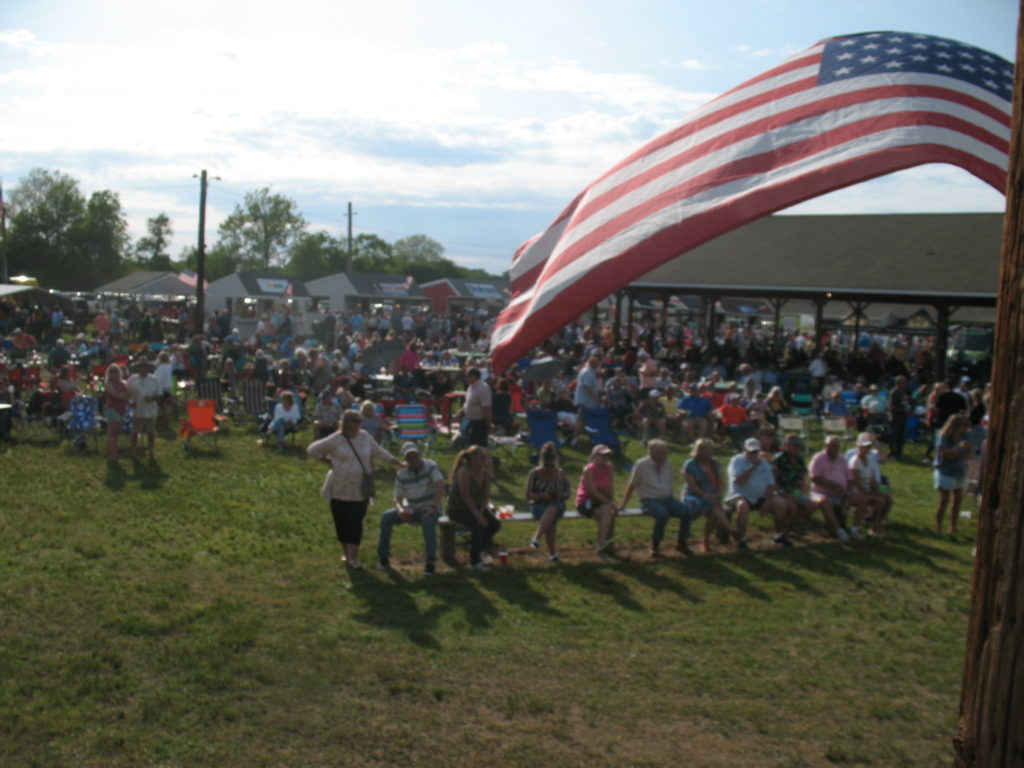 Seafood Festival Preparations
Tuesday nights at the Abingdon Ruritan Club are work nights. When the Seafood Festival planning begins, preparation goes into high gear getting ready for the festival day. Inventory is checked, grass cutting in continued, cleaning and painting is done, American Flags are inspected, and many more jobs are completed. Below Ruritan members are hard at work.