The Community Service Committees of a Ruritan Club are:
Business and Professions
Citizenship and Patriotism
Environment
Public Services
Social Development
At the beginning of each calendar year, the newly elected club president appoints each member to serve on one or more of these committees. Each committee plans its focus and activities for the year and works together with each other and with all club members to achieve its goals. Some of those activities completed are highlighted below.
Public Services
Public Service Committee Chair Bunny Ekdahl led club members and guest volunteers to travel across Hampton Roads into Ruritan's Holland District to answer telephone calls from viewers pledging support to TV station WHRO during the station's fund raising program. WHRO is a Public Broadcasting Service (PBS) station and as such is a non-profit organization that operates through donations from viewers and patrons. Pictured below seated from left are Selena and Frank Collins, Jenny Kigans, Mike Ekdahl, Denise and Roger Dick. Standing from left are Tony Dziadul, Frank and Kathleen Gillerlain, Bunny Ekdahl, Yvonne and Allen Scales, Margaret and Mike Davis.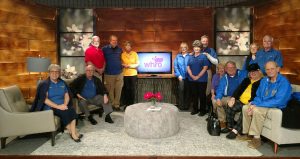 Environment
In support of Clean Gloucester Day, Environmental Committee Chairman Allen Scales led 20 club members and one guest volunteer in picking up trash along Guinea, Tidemill, and Mark Pine Roads. Despite cold and wet conditions, they picked up 53 bags of trash and hauled them to the dump. Pictured getting ready to head out to work are (Front row from left) Marissa Wardley, Mary Lou Shepherd, Yvonne Scales, Julie Woolley, Diane Woolley, Selena Collins, Frank Collins, Bunny Ekdahl, and Mike Ekdahl. Back Row from left: Walter Priest, Glen Aycock, Barbara Priest, David Simmons, Pete Shepherd, Allen Scales, John Snyder, Jim Durrette, and Roger Dick. Also helping, but not in the picture, were Lynn and Dave Onesty and Sid Dugas.

Clean The Bay Day
Members and guests of the Abingdon Ruritan Club donned their Guinea boots to pick up trash as part of Clean The Bay Day. The group collected tons of trash which was hauled away by B&S Refuse as contributed by Club Member Jim Stevens. Shown here assembled at the river's edge are l-r: Rupert Thomas, Mike Ekdahl, Guest Billy Wayne Hogge, Mary Lou Shepherd, Walter Priest, Andrea Crawford, Julie Woolley, Rose Taylor; 2nd row, Roger Dick, Guest Thomas Brown (B&S Refuse), Al LaRoche, Allen Scales, Jimmy Leiffer, Dianne Woolley, Rick Taylor, Guest Leslie Bowie (Gloucester Clean Community Coordinator), Pete Shepherd, Glen Aycock, Guest Michelle Turlington and not pictured Yvonne Scales.

Jamestown 4-H Camp
The Abingdon Ruritan Club's Environment Committee, Chaired by Allen Scales, recently completed a community service project that contributed to the beautification of the Jamestown 4-H Educational Center. Ten members assembled 21 wooden benches. The Educational Center is dedicated to the development of youth and adult volunteers through innovative 4-H camping, environmental education and leadership training.
Pictured from left seated are Ron Bruce, Ann and Sid Dugas, Mary Lou Shepherd, John Snyder. Back row from left, Scales, Elliott Hogge, Jimmy Leiffer, Marshall Butler and Pete Shepherd.

Social Development Committee
Members under the leadership of Mike Ekdahl, Social Development Chair, participated in the Peasley Middle School's "Reality Store" where six classes of students went through the reality simulation, learning about choices they would have to make when budgeting their assigned "salaries." Pictured below, posing as proprietors of various businesses, are (top) Roger Dick and Mike Ekdahl; (bottom left) Mike Davis: (bottom right) Tony Dziadul. Not pictured are Rose Taylor, Bunny Ekdahl, and Kay Vandyke.
Citizenship and Patriotism

American Legion Post 75 conducted a very touching memorial service on February 2 at Bellamy United Methodist Church to honor the 4 Army Chaplains who gave their lives to save other soldiers on the USAT Dorchester which was torpedoed and sunk on February 3, 1943. These brave chaplains gave up their life vests to other soldiers. Just before the Dorchester sank, survivors remember seeing the chaplains standing on the deck with locked arms singing. Shown are Abingdon Ruritan Club members who attended: Front Row: Janet Kyle, Mary Lou Shepherd, and Selena Collins; Back Row: Dave Kyle (Citizenship and Patriotism Committee Chairman), and Frank Collins. Not shown is Marshall Butler who also attended.

Memorial Day Ceremony : On Sunday May 26th the Abingdon Ruritan Club was one of a number of organizations that participated in the American Legion Post 75's Memorial Day wreath laying ceremony at the Gloucester Courthouse. David Kyle Chairman of the Citizenship and Patriotism Committee, laid the Club's wreath.

This committee also is continuing a drive begun in previous years to collect patient care items for the VA Hospital. It continues a Flag Watch program to ensure that the flags in front of our building are handled with respect and that they are raised and lowered to half staff as directed by the President. It also maintains a drop-off receptacle for American Flags that need to be honorably disposed. This committee sponsors a Random Acts of Kindness drive among club members, and it invites everyone everywhere to participate!
Think of what we each can do to be good, kind, citizens!
Open the door for someone, Help someone carrying a lot of stuff,
Drop off a toy or game to a shelter, Exercise patience, Be tolerant,
Pay someone a compliment, Smile at strangers, Pick up the tab,
Be a courteous driver, Send a card to a friend, Pick up litter,
Do a kind act daily,…the possibilities are endless!