This committee fosters love of our country and pride in being an American citizen. They promote activities and partnerships with local Veterans' Groups, schools, and community activities to make us more aware of our rights and responsibilities as Americans.
oooo
THE UNITED STATES CONSTITUTION:
On May, 15, 2023 The Abingdon Ruritan Club completed a project initiated by the Citizenship and Patriotism Committee to place a copy of the United States Constitution into the hands of the Gloucester High School Students, 8th grade middle school United States History students and the NJROTC. This document fits in a pocket and includes the Constitution, the Amendments and the Declaration of Independence.
Pictured left to right: Katie Litton, Dianne Carter-deMayo, Danny Speight, Jeannie Pendergraft, Alexis Cruz and John Pendergraft.
Our club would like to thank Katie Litton, K-12 Science & Social Studies Academic Support and Remote Learning Program Administrator for Gloucester County Public Schools. With Katie's help we were able to deliver almost 800 copies of this sacred document to Gloucester High School, NJROTC and Paige and Peasley Middle Schools.
***************************************************************
Boy Scout Troop 133
The Abingdon Ruritan Club paid a visit to Boy Scout Troop 133 on Monday, April 17, 2023 to pass out copies of the Pocket United States Constitution. Jeannie Pendergraft represented the club and the scouts were happy to receive them. Ms. Pendergraft talked about how fortunate we are to be able to live in the seat of where our freedoms as American citizens were won. She talked about the Bill of Rights, which is the first 10 amendments and how important it is to read and understand this document. The Pocket United States Constitution was donated by the Abingdon Ruritan Club. Our children are our future and they need to recognize a threat to American Civil Liberties. Perhaps if they can place a copy of the United States Constitution in their breast pockets, close to their hearts, they might have an awareness of the God given rights that we have. A renewed awareness of the Constitution as the cornerstone of this great nation is what will save it.
Pictured: Front- Jackson Didlake, Levi, Codekas, Parker Joyce, Oliver Farmer, Brayden Hogge. Middle- Odin Talbot, Lucas McMillan, Carson Curtis, Austin Prater, Carter McMillan. Back- Jeannie Pendergraft, Cliff Pinder, Mathew McMillan, Drake Hall, Kevin Farmer
Photo Dean Marzocca
Remembering Four Chaplains:
On Saturday, February 4, 2023, Abingdon Ruritan members joined the Four Chaplains Service that was hosted by the Local American Legion Post 75 and held at the Grace Covenant Presbyterian Church, 6470 Main St. Gloucester VA, 23061.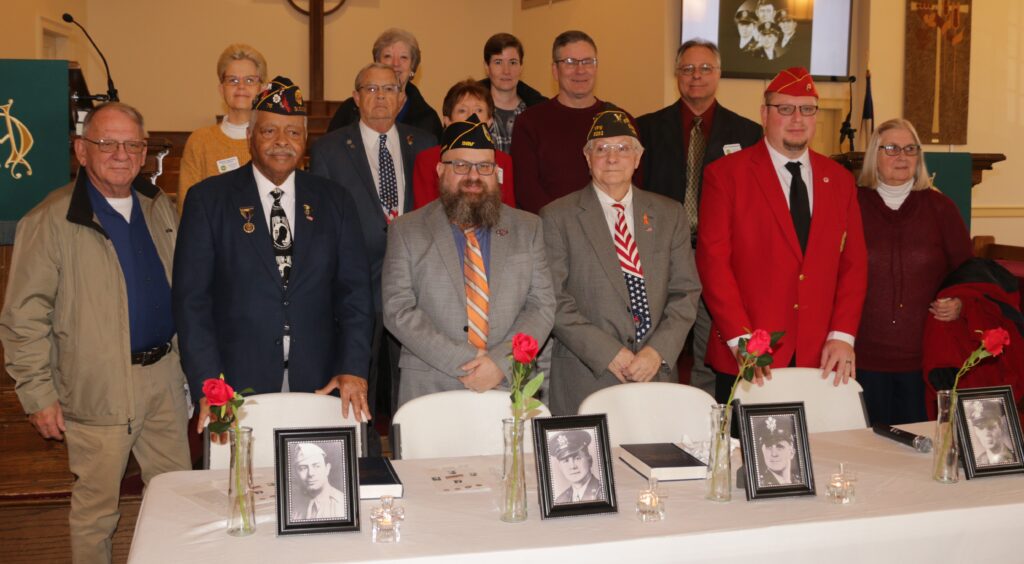 This Service marked the 80th Anniversary of the heroic actions of the 4 Chaplains aboard the USAT Dorchester sunk in the North Atlantic by German U-Boat U-223 on Feb. 3rd, 1943. Of the 902 men aboard, 672 died. Four Chaplains sacrificed their lives so others could live. The four Chaplains were Alexander D. Goode, George L. Fox, Clark V. Poling and John P. Washington. Representing these four Chaplains at the 80th Anniversary service were, Chaplain Robert Berry, Chaplain Eric Scott, Chaplain Jon Sawyer and Chaplain John Seltzer.
A NEW YEAR 2022 FOR NEW ADVENTURES
00
Veterans Day 2022
Don Sciria, Citizenship and Patriotism Chair and ARC members layed flowers and remembed the Veterans on Veteran's Day at the Gloucester Court House.
Veterans Day Ceremony & Wreath Laying was held November 13th. ARC Members
and Spouses who attended were:
Don Sciria & wife Poksun, Dave Kyle,
Selena Collins, Mark Bradford & wife Marilyn,
Andrea Crawford, Dean Marzocca, and
Mary Lou Shepherd.
Honoring our Fallen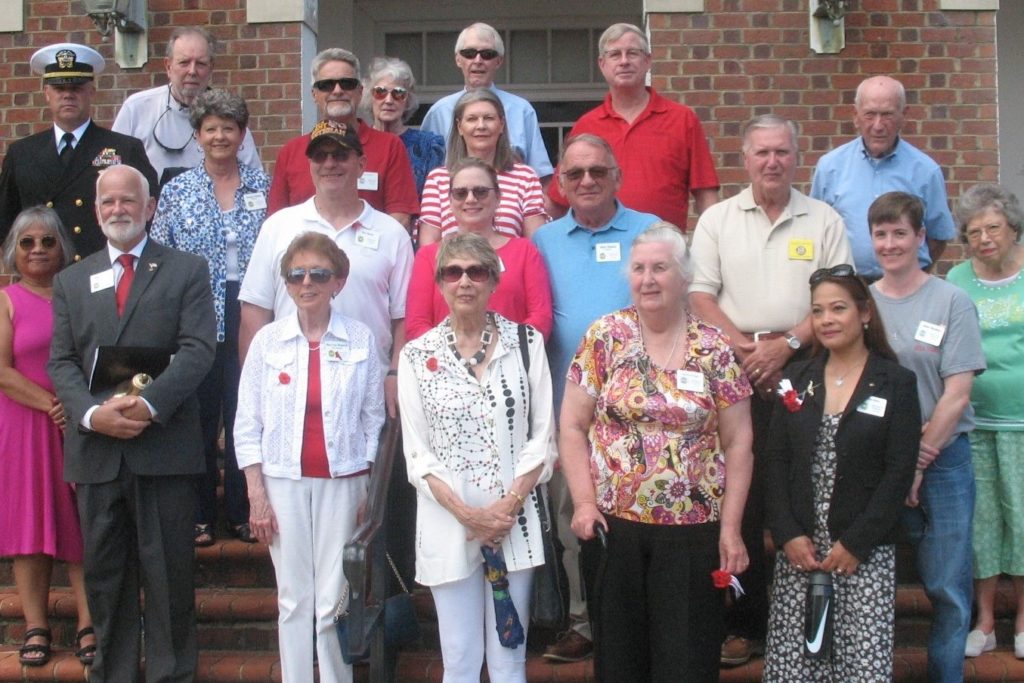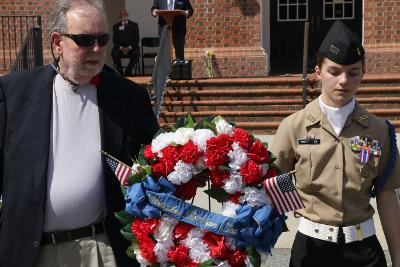 A day to honor those who have made the ultimate sacrifice for our country
00
Retiring our Honored Flags
Abingdon Ruritan Club held a flag retirement ceremony Memorial Day weekend of 2022. The service included the Pledge of Allegiance followed by individual placement of the flags in the fire pit one at a time. A total of 44 flags were retired and the group ended the ceremony by the Pledge again. The Ruritans encourage anyone to drop off a flag in need of retirement in the club's front lobby throughout the year.
00
U.S. Army Military Transportation Museum visit
The Abingdon Ruritan Club's Citizenship & Patriotism Committee met for breakfast on April 2, 2002 and assembled for a ride to Fort Eustis to visit the U.S. Army Military Transportation Museum for a planned guided tour. The 8 members attending the Tour included as pictured above, Mike Ekdahl, Bunny Ekdahl, Don Sciria, Jeannie Pendergraft, John Pendergraft, Elinor Case (potential member), Jim Case (potential member) and Steve O'Neil(not pictured).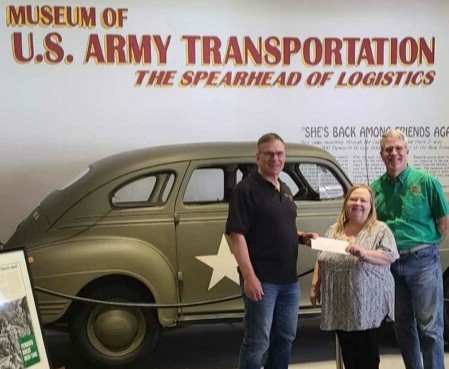 Don Sciria presenting an ARC $100 donation check to the Museum staff Kandace Mahia.
00
00
00
00