This committee fosters love of our country and pride in being an American citizen. They promote activities and partnerships with local Veterans' Groups, schools, and community activities to make us more aware of our rights and responsibilities as Americans.
ooooo
A NEW YEAR 2022 FOR NEW ADVENTURES
00
Veterans Day 2022
Don Sciria, Citizenship and Patriotism Chair and ARC members layed flowers and remembed the Veterans on Veteran's Day at the Gloucester Court House.
Veterans Day Ceremony & Wreath Laying was held November 13th. ARC Members
and Spouses who attended were:
Don Sciria & wife Poksun, Dave Kyle,
Selena Collins, Mark Bradford & wife Marilyn,
Andrea Crawford, Dean Marzocca, and
Mary Lou Shepherd.
Abingdon Ruritan Club's Donates to Hampton VA Hospital
Don Sciria, Citizenship and Patriotism Chair, delivers 48 bags of toiletries donated from ARC members to the VA Rep at the Hampton VA Hospital.
They were delivered Friday, July 1, 2022.
Being a patient at a VA Hospital is not the same as being a patient in a public hospital. VA Hospitals do not provide any VA funded toiletry items to patients. They only provide items that are donated.
000
Honoring our Fallen
May 29, 2022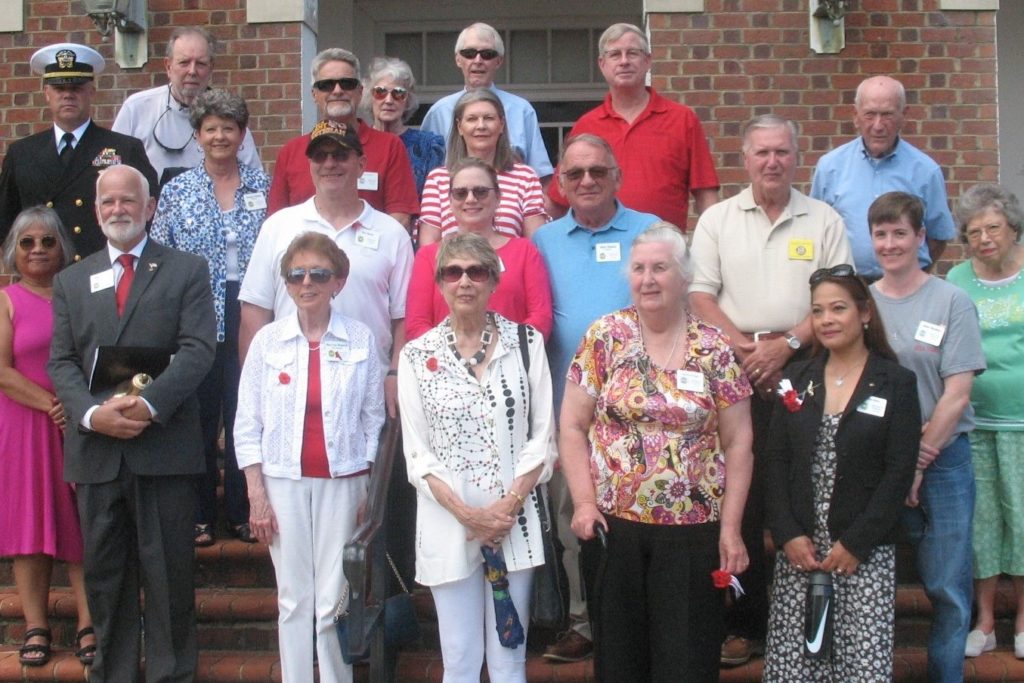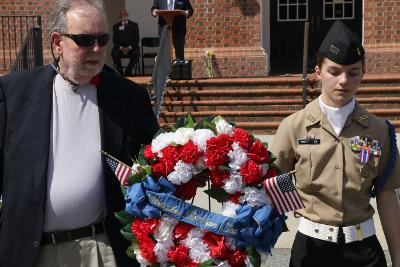 A day to honor those who have made the ultimate sacrifice for our country
00
Retiring our Honored Flags
Abingdon Ruritan Club held a flag retirement ceremony Memorial Day weekend of 2022. The service included the Pledge of Allegiance followed by individual placement of the flags in the fire pit one at a time. A total of 44 flags were retired and the group ended the ceremony by the Pledge again. The Ruritans encourage anyone to drop off a flag in need of retirement in the club's front lobby throughout the year.
00
U.S. Army Military Transportation Museum visit
The Abingdon Ruritan Club's Citizenship & Patriotism Committee met for breakfast on April 2, 2002 and assembled for a ride to Fort Eustis to visit the U.S. Army Military Transportation Museum for a planned guided tour. The 8 members attending the Tour included as pictured above, Mike Ekdahl, Bunny Ekdahl, Don Sciria, Jeannie Pendergraft, John Pendergraft, Elinor Case (potential member), Jim Case (potential member) and Steve O'Neil(not pictured).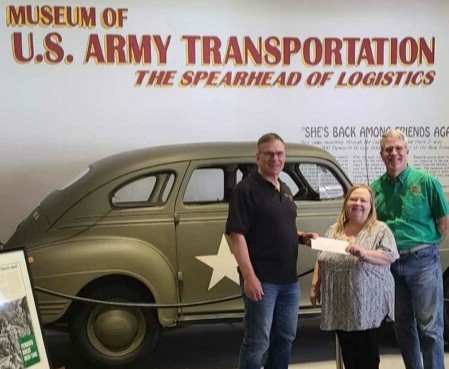 Don Sciria presenting an ARC $100 donation check to the Museum staff Kandace Mahia.
00
The Four Chaplains Ceremony
The ceremony of the Four Chaplains took place at American Legion Post on Feb 5, 2022.
To honor the four chaplains who gave their lives to save so many February 2nd 1943. That night Rev. Fox, Rabbi Goode, Rev. Poling and Father Washington passed life's ultimate test. In 1944 the distinguished Service Cross and Purple Heart were awarded Posthumously and in 1961 President Eisenhower awarded a special Medal for Heroism, authorized by Congress, intended to equal the Medal of Honor.
01
ABINGDON RURITAN MEMBERS
GIVE THANKS TO AMERICAN HEROS
ARC members volunteered to help place veterans' wreaths on the headstones of American Heros as part of National Wreaths Across America Day at Hampton National Cemetery.
ARC volunteers joined volunteers from all over the Hampton Roads community, in remembering and honoring our country's fallen heroes. Remembrance Wreaths were laid at each grave and the act of saying the name of each and every veteran aloud.
00
00
Veteran's Day Ceremony 2021
Fourteen Abingdon Ruritan Club members attended the Veteran's Day ceremony conducted by the Marine Corps League, Middle Peninsula Detachment #1317 at the Gloucester County courthouse on Sunday, November 14th.
The Abingdon Ruritan Club was invited to the celebration of Veteran's Day
Sunday, November 14, 2021 at 3:00 pm at the Gloucester Courthouse Memorial, from Marine Corps League Middle Peninsula Detachment #1317,
Michael Gilberti.

Right: ARC President Dave Onesty layed our club's wreath.
9-11 Ceremony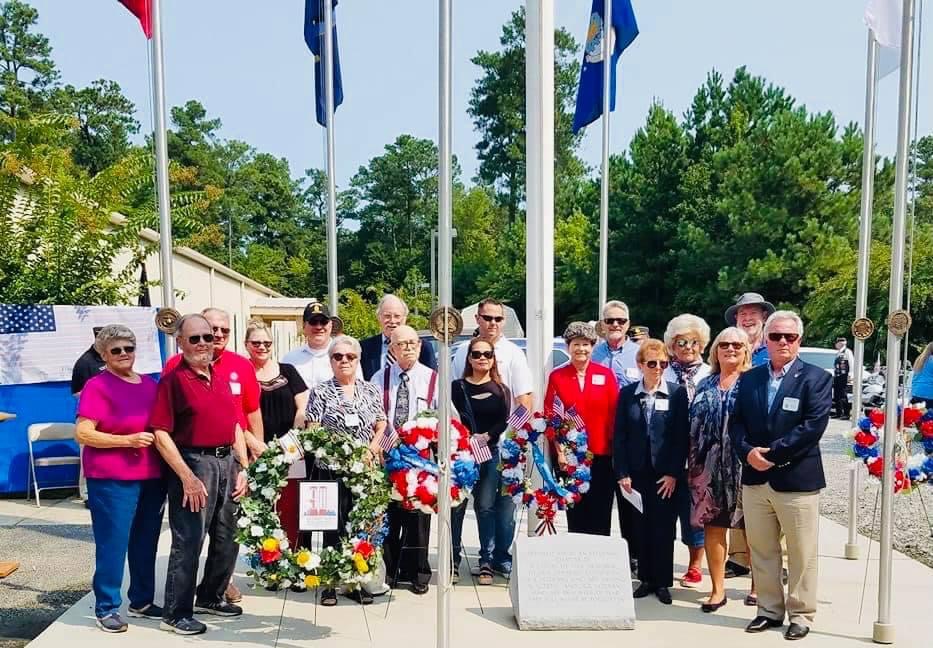 On Saturday 9/11/2021, at the Gloucester DAV Chapter, Abingdon Ruritan members participated in the Wreath Laying Ceremony to remember the victims, the families, and survivors dealing with loss, recognizing the lasting consequences of 9/11 on individual lives. Activities included a wreath laying, flag raising, Pledge of Allegiance, National Anthem and playing of Taps.
00
00
00
Caring For Our Soldiers
Abingdon Ruritan's chairman Don Sciria of the Citizenship & Patriotism Committee, donated items (from Gloucester Walmart and Ruritan members) to the Army Community Center, that will be available to single Soldiers and Soldiers with families, when they arrive at Fort Eustis. Soldiers can use the items after arriving at their new duty station or when they are getting ready to leave to change to a new duty station.
Ms. Liezel Bambao who's the ACS manager thanked the Abingdon Ruritan for all the club's donations on behalf of the Army Community Center and all the Soldiers and Soldiers with families who will use the donated items in the future.
AND THAT'S NOT ALL THAT WAS DONATED…
SCHOOL SUPPLIES FOR CHILDREN OF YOUNG MILITARY FAMILIES
Various school supplies were also donated to the Army Community Center at Fort Eustis;
The supplies will be distributed to the children of young military families from JBLE (Joint Base Langley/Fort Eustis) community.
Pictured:Peter Lamberti (ACS Team Lead), Don Sciria (ARC Member) and PVT Gracie Striggs from the 689 RPOE.
The ACS Work/Life Consultant, Roger Bullis and Community Readiness Consultant, Danna Cloy thanked the ARC for all the great school supply donations. They will be very much needed and appreciated for the upcoming school year.
00
Memorial Day 2021 – Honor and Remember
Four Chaplains Ceremony
ARC Members participate in the Four Chaplains Ceremony at the American Legion Post 75 in February 2020.
Veterans Day 2020 Ceremony
The ARC participates in the Veterans Day wreath laying ceremony.
ARC Members visit the local US Army Transportation Museum at Fort Eustis
ARC members also assist with the annual Wreaths Across America project by placing and removing wreaths at the Hampton Veterans Cemetary.
ARC Members participate in the POW Ceremony at American Legion Post 75 in Sept 2020.
This committee also is continuing a drive begun in previous years to collect patient care items for the VA Hospital. It continues a Flag Watch program to ensure that the flags in front of our building are handled with respect and that they are raised and lowered to half staff as directed by the President. It also maintains a drop-off receptacle for American Flags that need to be honorably disposed.