The Social Development Committee knows that human resources are its most valuable assets, it is important that the community have facilities and service which will provide for the well being and development of all people, with special concern for those with unique needs.
help
Donating to our Community
The Abingdon Ruritan Club is proud to support the Habitat for Humanity cause with a $1000 donation. John Snyder presented the check to Mike Davis of Habitat for Humanity at the July 10th 2023 meeting.
*********************************************************
Pete Shepherd Memorial Fundraising
On June 11, 2023 the Colonial Corvette Club showed off their beautiful cars at the Abingdon Ruritan Club and helped feed the hungry of Gloucester County. The Pete Shepherd Memorial fundraising event netted 337 pounds of food and $470.00 of cash donations. The food and monetary donations were delivered to Susan Wesley Methodist Church and Bread for Life Food Banks.
John Horn, (right) and Dan Lively presenting Abby Bowles (middle) food and cash donations.
Abby Bowles along with Colonial President John Horn and photo of Pete Shepherd.
***************************************************************
Volunteering in the Schools
Realty Store May 2023
**********************************
Reality Store February 2023
Reality Store is a wonderful hands-on experience for 8th graders where they are given a family situation (income, marital status, children, etc.) and are asked to use their money income to make decisions on things like housing, transportation, food, clothing, entertainment, etc. Volunteers are needed to staff each booth representing one of these expenses to help explain the options to the students.
Nine ARC members helped out with the Reality Store simulation at Peasley Middle School on 2/17/23.
Volunteers are need to staff each booth representing one of these expenses to help explain the options to the students.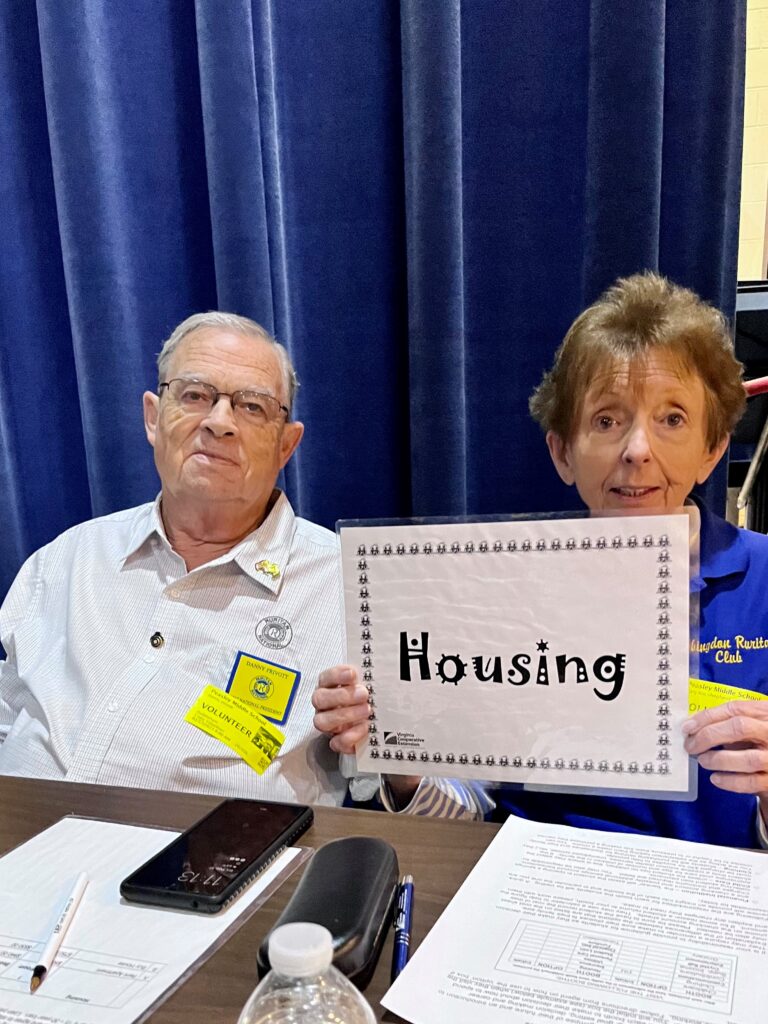 000
Helping our Community
Chuck Harris, Board of Director member of the Abingdon Ruritan Club presented a $2000.00 donation to the Gloucester Mathews Care Clinic. Accepting the donation is Maureen Crone the Marketing and Development Director at GMCC.
The mission of the Gloucester Mathews Care Clinic is to provide community-based healthcare for the residents of Gloucester and Mathews counties, and select surrounding areas, who lack health insurance, or are covered by Medicaid.
000
ARC Always Giving to the Community
On June 13, 2023 Mary Lou Privott, Abingdon Ruritan Club, presented Alyssa Grant, Gloucester Unit Director, Boys & Girls Club, with a box of individually wrapped snacks for the children attending the Club. The very appreciative Ms. Grant commented that donations are always appreciated at the Club.
***************************************************************