The Social Development Committee knows that human resources are its most valuable assets, it is important that the community have facilities and service which will provide for the well being and development of all people, with special concern for those with unique needs.
Community Involvement
As a community effort, the Ruritans worked with Helping the Homeless Ministry with Pastor Wendy to feed the needy. Ruritans picked blue berries, broccoli, kale, lettuce and beets from local farms. Local farmers donated all the goods, "They let us pick all we wanted so that we could donate them to Pastor Wendy's organization to feed the homeless," said Social Development Committee Chair, Lynn Onesty. Volunteers are Lynn Onesty, John Snyder, Rose Taylor and Diane Keller not shown.
2020 Social Development Highlights
• Children's Christmas Party 2019
• Assist with Meals on Wheels Delivery
• Volunteers to WHRO for Telethon Fundraisers
• Clam Chowder Sale to benefit local Boy Scout Troops
• Project with Habitat to Rebuild a roof & porch
• Collecting and distributing food to local churches
•Volunteered to assist cooking meals for the homeless at local churches
• Collecting food, books, puzzles for shut-ins
• Collecting masks and various supplies for students
• Volunteers picked garden vegetables and blueberry pickin' to help feed the homeless
• Corvettes for the Hungry event collected food for distribution to a local food pantry
Volunteers Make WHRO Possible
whro
Food Donations from the Corvette's for the Hungry Event
Abingdon Ruritans gathered a wealth of groceries for Gloucester County Emergency Management and raised $1,300 for their own charitable efforts with a Corvettes for the Hungry car show, food drive, and fundraiser, held at the clubhouse on Guinea Road in Bena. Thirty-four Corvettes showed up, belonging to members of the Colonial Corvette Club and the Gloucester-Mathews Corvette Club.
Gloucester Point Beach Gazebo Clean Up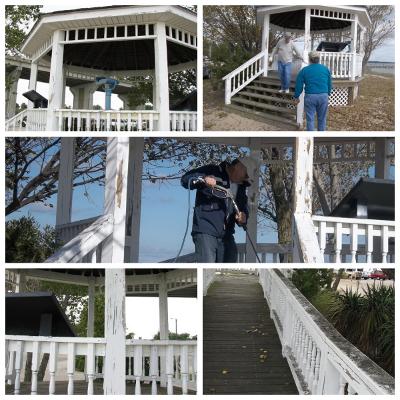 Gloucester Point Beach Clean -up:
Bunny and Mike Ekdahl, Don Sandridge and Charlie Lewis. participated in this project.
The team power washed the Gazebo and the long ramp and railings that lead from the parking lot to the Gazebo.
corvett
Christmas is Still On!
Each year we put on a Christmas Party for the local children featuring Santa and Rudy Bear with a cake walk and gifts along with crafts and games, serving cookies, ice cream and punch for the guests. With COVID this year we could not hold this party, so we found local organizations that would be able to distribute the toys we had collected to the community. Pictured here is Mike Ekdahl and Lynn Onesty delivering toys, with Gary Ripple from the Boys and Girls Club of Gloucester. Bunny Ekdahl taking the picture.
Coats
Share the Warmth
The Abingdon Ruritan Club's Social Development Committee, chaired by Mike Ekdahl, partnered with the Gloucester Salvation Army to collect and donate gently used coats to the Eastern State Hospital in Williamsburg. Bill Parks coordinated the Salvation Army's effort. A total of 92 coats were donated with 43 coming from the Ruritan Club and 49 from the Salvation Army.